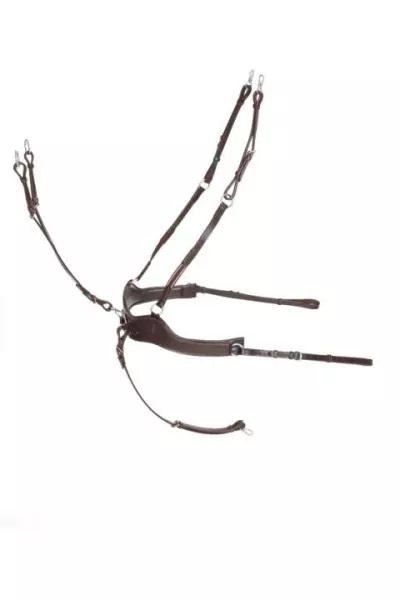 5 Point Breastplate  "W&S" (Wide & Safe), B-Stock, dark-brown/gold
Worldwide novelty, only available from us
5 Point Breastplate "W&S" (Wide & Safe)
B-stock due to scratches on the leather surface. No defects, just minor flaws!
Special features and function
- Wide, anatomically shaped, padded breastplate with specially designed neckline for optimal pressure distribution and saddle stabilization
- Most comprehensive adjustment possibilities, thus fitting for any type of warmblood horses
- Can be combined with an optional "Anti-Entangling Sleeve" which substantially reduces the risk of the horse's foreleg or shoe getting caught in the martingale strap over the fence, providing maximum safety for rider and horse
- For especially careful horses jumping with extremely bent forelegs, being in danger of getting entangled therefore, this breastplate can also be used without a martingale strap (reduced martingale effect via the wide breast belt laterally attached to the saddle).
- Martingale strap fitted with removable, non-sewed snap hook which can be easily exchanged in case of damaging
- Adjustable martingale fork with snap hook
- Variable lateral and upper attachments in combination with neck straps with elastic inserts prevent the saddle from tilting upwards and slipping back
- Bib martingale attachment with swivel hook available as an accessory
- All main components can be re-ordered individually as spares

Application possibilities (4 Options):
1) Use of the "complete package" with martingale fork, martingale strap + anti-entangling sleeve – maximum security with full martingale effect
2) Use as a "normal" breastplate with martingale fork and martingale strap, but without the optional sleeve
3) Use with martingale fork, but without martingale strap/sleeve, (reduced martingale effect, but simultaneously excluding any risk of entangling)
4) Use of the pure chest belt with neck straps for keeping the saddle in place
5) (Note: For horses with a difficult saddle position, withers or backbone shape, we recommend the additional use of "Non-Slip" Gel Pads from Acavallo, Italy, which you can find in our online shop offer as well.)
Leather material: vegetable tanned, drum-died buffalo leather
Colors: dark brown/gold
Size: full