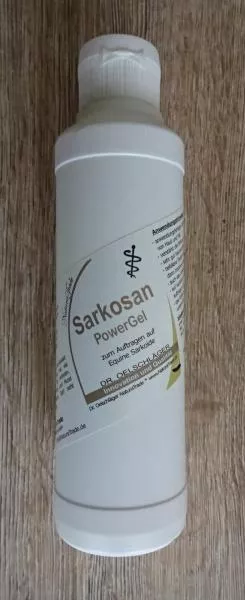 Sarkosan PowerGel
Hygiene Skin Gel:
- Package size: 250 ml dispenser (similar to fig.)

Instructions for use:
- Ready-to-use gel for hygienic cleansing of skin and coat
- enhances the effect of Sarkosan Liquid Spray
- very well tolerated by the skin: acidic pH value (vinegar)
- Spray infested areas with Sarkosan Liquid once or twice a day, then allow to dry
- also spray the surroundings of the affected areas generously
- then apply Sarkosan PowerGel to thickened skin areas and let them dry
- support the detachment of dead cells mechanically (by hand or with a clean piece of cloth), if possible.
Sarkosan PowerGel dries out equine sarcoids and sustainably normalizes the skin structure. Affected skin areas are gradually rejected, so that healthy skin can replicate. It inhibits the spread of pathogens sustainably due to its strong cleansing effect.
Always use in conjunction with Sarkosan Liquid. Do not combine other products with Sarkosan, do not grease treated skin areas!

Ingredients:
less than 5% non-ionic surfactants, purified water, peroxides, organic acids, excipients.